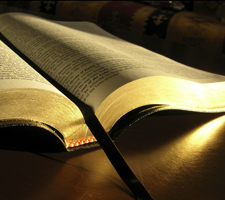 As Pastor of the Gettysburg Bible Baptist Church,
I would like to cordially invite you to visit with us. We are a small country church with a big heart. You will find our fellowship of believers very warm, friendly and easy to get to know. Many who have visited, express that our church is quite unique. We believe this to be so because we do not follow the extremes of our day. We do not attempt to compromise and accommodate for numbers sake, nor do we with a mean spirit become condemning or controlling.
In this day of apostasy and easy believism, we attempt by God's grace to preach the old time gospel. We believe we ought to "earnestly contend for the faith which was once delivered unto the saints". Our stand therefore is upon the Word of God and the King James Bible alone is our text.
We believe our attitude should be what the Apostle Paul expressed in I Cor. 2: 4,5, "And my speech and my preaching was not with enticing words of mans wisdom, but in demonstration of the Spirit and of power : that your faith should not stand in the wisdom of men, but in the power of God."
Our vision is to be faithful to God till He comes and to reach others for Christ by obeying the great commission as commanded in Acts 1:8.
You can find additional information about GBBC by visiting the different pages of this site. Our history page contains a comprehensive background on how our church started, where we are today, and our goal for the future. Please take the time to read it – as it will help you to know more about who we are.
We are thankful for the wonderful people God has given to lead our church. For the Christian, opportunities for service abound at GBBC, for the lost; truth and clear direction on who Jesus Christ is and what He can do for you personally. We look forward for the opportunity of getting to know you.

In His Service,
Pastor Dave Mitchel